Accompanying evets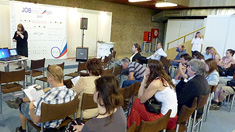 Presentations and lectures

The stage:
Profiles of exhibited companies
Living and working conditions in European countries
Seminar rooms (more info about)
How to apply for jobs in hotel industry in Germany by Zentrale Auslands- und FachvermittlungJob vacancies in Europe
How to apply for a job in Europe
How to write CV
How to prepare for interview
Recognition of qualification in EU and Europass by Europass representatives
How to manage your carrier by Slovak academic association for international cooperation
XV. International Job Fair
Where? Pavilion M3
When? 18.-19. April 2013
What time? 9 am – 6 pm
What we have prepared for you?
1. Vacancies offering by exhibited foreign employers and representatives of EURES partners from EU/EEA countries. You should complete the interview and arrange the start of employment right at the place.
2. The stage and seminar rooms perform profiles of exhibited companies, living and working conditions in EU/EEA countries, lectures oriented to employment.
EXHIBITORS